THE BEGINNING OF A GREAT ADVENTURE
At GuruTrack, we understand your interest in finding the best to follow to continue your path to higher achievement. We also understand that with us being the new site on the block, that you may want to "try before you buy."
So we're offering a FREE trial with a bonus kicker. Easy to start up, and easy to quit -- you can cancel anytime -- because we're convinced we can bring big value to your life with the interviews, articles and exposés found here.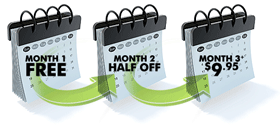 Start your FREE trial today, and see what you think. If you're happy, the second month is 1/2 off as our thanks. Month #3, your rate will go to our regular 9.95 a month, and we know it will be worth far more to you as you learn the more intimate and off-the-record details from the world's biggest experts!
Start your FREE trial today!
Ask about our Corporate Discounts


Taking Care of Business...

Learn more about Membership in a very exclusive club. Pareto may have delineated 80/20 as the rule, but Guru Track Members tend to be in the top 3% of business, arts, engineering and corporate hierarchies. They get the best news here, and use it to their advantage. More...