"When the student is ready the teacher will appear" Sometimes, the student is more than ready, and no real teacher is in sight, let alone on the horizon. For an achiever it's an ongoing source of frustration: trying to find mentors, leaders, teachers and counselors that can take the pursuit to new levels. We know.
As leaders, speakers and gurus who have pulled back the curtain and spent serious time w/ true genius, we know it all too well. Getting access is tough, but getting insights outside the normal curriculum requires nothing short of a mountainous trek.
Think about it for a moment… when you go to a conference, is it the general sessions, seminars, classrooms OR private confabs, dinner talks, drinks and gabbing that yield the pathways to production? Truth be told, you need both, but one's cake, and one's icing.
And each of the people and companies we profile each week are willing to offer the masses some truly tasty cake. You may buy it in the lobby after the presentation on cd or cassette, book or subscription, or just go to Amazon later. You'll probably get free shipping. What if we could get you backstage access, and offer up the conversations that show the human side, the subtle details, the why's and rationale behind the breakthroughs? You'd be up to your proverbial keyboard in icing, savoring the sweet secrets and subtle flavors of innovation.
If you're the type of manager, leader, entrepreneur or dreamer that can't get enough of the great stuff, you're in the right place. We founded GuruTrack to give our friends and members the kind of backstage, after-hours access that yields the special neuro-magical chemical reactions that drive "AHA's" and genuine break-throughs.
Here, you'll find surprises (the fun kind) and the words, anecdotes, smiles, winks and chats that connect the dots of greatness. We promise. It's our mission.
Your next steps are pretty simple, actually. Look around the site and decide if you want more of what we're offering. Then Start your FREE trial, and see what you think. If you're happy, the second month is 1/2 off as our thanks. Month #3, your rate will go to our regular 9.95 a month. It just gets better from there as you'll automaticaly receive our podcasts, free cd-rom issues and discounts on top-shelf educational and inspirtional materials from our gurus. GT's going to be an even bigger deal in the years to come, and your membership will grow in value.
Thanks for visiting, and we look forward to serving your needs for a long, long time.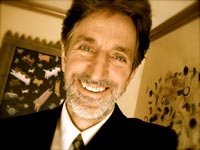 Ski Sullivan
Founder, GuruTrack.com


Taking Care of Business...

Learn more about Membership in a very exclusive club. Pareto may have delineated 80/20 as the rule, but Guru Track Members tend to be in the top 3% of business, arts, engineering and corporate hierarchies. They get the best news here, and use it to their advantage. More...