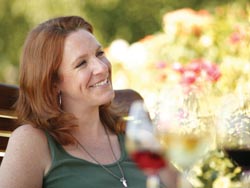 ABOUT THE SERIES: Long a male-dominated bastion, the world of wine is seeing a decidely delightful uptick in the profiles, opinions and followings of some of the industry's brightest minds. What makes it so fun is that these wine gurus are women, and they're changing the roles and expectations of oneophiles around the globe.
Kicking off our Women In Wine series for GuruTrack, is one of wine's most tireless educators and crusaders. Amy Mumma began her wine education at her father's side experimenting as a teenager on scientific queries as far afield as the freezing points of zinfandel. Dad was a scientist, and at heart, so was his daughter -- a trait that would serve her very well in her educational and professional pursuits.
Perhaps best known for her efforts in founding the highly successful World Wine Program (home of the one-of-a-kind Global Wine Studies degree) at Central Washington University, Amy is also a freelance writer for publications including Vineyard & Winery Management and the North American correspondent for the Bordeaux wine magazine L'Amateur Bordeaux. She is a wine judge and frequent presenter at national and international conferences and the president of Washington Wine Ratings.
And the hits keep coming for Mumma. In 2005, she was awarded the prestigious title, Professional Wine Woman 2005-2006 (see sidebar) , the top award of the International Wine Women Awards competition in Paris, France. She also holds the Advanced Certificate of Wine and Spirits from the Wine and Spirit Education Trust in London, and a Diploma of Tasting from the Université de Bourgogne in Dijon, France.
She makes a difficult schedule seem easy, and he success is largely a result of her dogged pursuit of goals in combination with her scientific acceptance of failure as a means to success … the trials lead to larger findings. Her development of the World Wine Program in 2003 was especially prescient given the growth of the industry in the last decade. WWP turns out, well-rounded, wine-business savvy graduates with an understanding of the global terroir, and an ability to make the wheels turn faster and more efficiently.
In our chat, Mumma outlined her early influences and achievements, and discussed the importance of embracing change within the framework of the wine world's vast traditions. She shares an engaging big-picture view of where wine's going and the influences of women, globalization and social media on the trail ahead.
Listen to the 5-Chapter audio (COMING SOON.): The GuruTrack Podcast with Wine Expert Amy Mumma
Or, listen to specific podcast chapters here:
• Intro: chapter explanation here

• Chapter Two: chapter explanation here

• Chapter Three: chapter explanation here

• Chapter Four:chapter explanation here

• Chapter Five:chapter explanation here

• MEMBER BONUS: The Next Big Thing from Amy Mumma
ALL CONTENT ©2010 ROGERSSULLIVAN MEDIA


Taking Care of Business...

Learn more about Membership in a very exclusive club. Pareto may have delineated 80/20 as the rule, but Guru Track Members tend to be in the top 3% of business, arts, engineering and corporate hierarchies. They get the best news here, and use it to their advantage. More...