We'd like to ask you to take a moment and nominate
your favorite Guru today.
We have our favorites, but we're listening to our members and
guests to access the first and finest leaders and experts
for the behind-the-scenes interviews and news
updates you can only get at GuruTrack.com.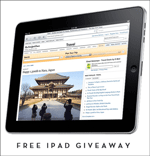 As a special thanks, we'll also enter you in our
FREE iPad Giveaway for summer 2010. Be one of five
lucky winners @ GuruTrack.com

NOTE: You may nominate as many gurus a you'd like.
You will only be enetered into our Giveaway once.
AND, nonsensical nominations will be discarded
along with your chances of winning.