THE PEN GETS MIGHTIER (continued)
group of reporting shops to brainstorm, assign, and share coverage. Already, this process has enriched our own understanding of the issue, and that can only be a benefit to our readers.
Q: Why these partners?
A: The group developed organically, but we also started with a constellation that didn't contain head-to-head competitors.
Q: Might more partners come on board?
A: Yes, though we're mindful of how many cats can be herded.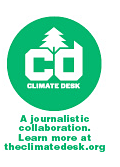 Q: So how will this collaboration manifest itself?
A: We're going to experiment with various forms. In our pilot project, a couple of pieces were assigned by consensus with an intent to run them across all of our publications; others originated with one shop but were offered up to all; and others ran in full only on the sites that produced them. We might create and share data sets, tools, or reader-engagement strategies.
Q: Who built your site?
A: The Climate Desk site was designed by the team at Wired, and built in Drupal by New Eon Media. The article and blog feeds are powered by Publish2, a collaborative curation tool that helps journalists bring the best of the Web to their readers.
Q: Where do you get your money?
A: So far, our principal funding has come from two foundations: the Surdna Foundation and the Park Foundation, both of which have a long history of funding journalism on energy and environmental policy.
Q: How is the project administered?
A: Editorially, it's run by a group of journalists from the partner organizations. Fiscally, it is hosted by the Foundation for National Progress, Mother Jones' nonprofit parent. If we attain escape velocity, the Climate Desk could become its own 501(c)3 organization.
Q: How do I contact you?
A: General inquiries can be sent to info@theclimatedesk.org. Press inquires can be sent to Marlene Saritzky, at (415) 713-1241 or marmv@comcast.net.


Taking Care of Business...

Learn more about Membership in a very exclusive club. Pareto may have delineated 80/20 as the rule, but Guru Track Members tend to be in the top 3% of business, arts, engineering and corporate hierarchies. They get the best news here, and use it to their advantage. More...